When we refurbish a full satellite antenna, including king post or support we have a detailed process leading to the finished product.
If the antenna is sold within the US we normally contract to re-install it, but in cases where the antenna is being sold overseas we take a few extra steps of photographing the existing antenna prior to take down so that we can email photographs and video to the installation team.
Take Down
Antenna is photographed in place, with attention paid to the location and attachment of radials and panels
Disassembly begins, with each stage photographed, or in some cases video is shot.
Panels, radials and panel supports are grouped together and secured before loading onto our flatbed.
Antenna bushings are examined and discarded if excessive wear is found.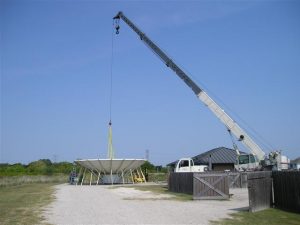 Inspection
All moving hardware is examined for excessive wear with replacement parts ordered if necessary
Motors are sent for electrical testing and if necessary they are refurbished.
Damaged or missing assembly hardware is examined and replaced if needed.
Jack screw boots are replaced if needed
Refurbishing
Rusted areas are sanded and stripped
Antenna is pressure washed
The antenna is sprayed with coats of primer
The final coats of acrylic paint are applied to the antenna
Rusted galvanized parts are sent for re-galvanizing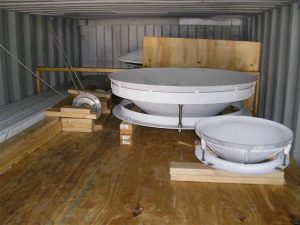 Packing for Shipment
Where appropriate the foundation bolt kit is ordered and shipped separately to the client
The completed antenna is loaded into the clients shipping container
If needed racks or supports are built within the shipping container to ensure damage free transportation
The loading process is photographed and all parts identified
Installation
Once the civil work is complete and the new pad is ready to receive the antenna the container is set down at the new site
The foundation bolts on the pad are examined and measured for accurate placement
The king post or antenna support structure is unloaded and made ready for installation with the crane
If the site is secure the panels, radials and supports are unloaded and the reflector is built on the ground
When needed the radials are aligned with a theodolite
A rented crane is delivered to the site and the king post and completed reflector are installed.
Using a theodolite the reflector is shot to manufacturers specifications
Where appropriate the sub-reflector is placed on the antenna.
Cables are pulled for the SSPA and LNA and Antenna Controller package
Testing and Certification
Electrical connections are completed and the antenna controller and full range of motion is verified.
Motors are tested for low speed and high speed operation.
Working with the client's choice of satellite, patterns are run and verification received from the operator's NOC.
 We guarantee that the transmit gain will be to within 1dB of original factory specification.
Demonstration that the antenna controller system is working correctly.
The antenna will pass two degree compliancy requirements.